SGA Raised almost $3500 for Children's Fund through Empress and Emperor of the Taj!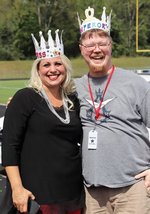 Empress Taylor and Emperor Kubler
HHS SGA sponsored the Homecoming "Emperor and Empress of the Taj" fundraiser during Homecoming Week. Students and community members donated 25 cents per vote and teachers "campaigned" to raise funds for the Catoosa County Children's Fund. By the end of the week almost $3,500 was raised! Thank you to everyone who contributed!
Mrs. Susi Taylor was named the Empress of the Taj!
Mr. Kris Kubler was named the Emperor of the Taj!
Ms. Lauren Peters was named the "Princess" since she raised over $1,000!